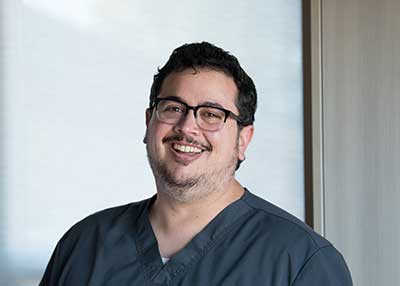 When you have Dr. Heinzen as your dentist, you will quickly learn about Bow Tie Thursdays, a school tradition he has been keeping up with until today. On top of that, you will also find that Dr. Heinzen is a very devoted dentist to his patients. He decided to go into the medical field after his mother fought breast cancer. He was intrigued by the medical aspect and the science behind helping people. Not surprisingly then, his favorite part about being a dentist is changing his patients' perspective about themselves, boosting their confidence with a transformed, healthy smile they can be proud of.
Dr. Heinzen's bow ties are not the only thing colorful about him. His recreational activities don't lack diversity either. He is a Boy Scout leader and devoted Sci-Fi Fantasy fan, especially when it comes to Star Wars. On top of that, he considers himself to be the master cook of his family, focusing on gourmet food, which he puts to good use when he caters large events at his church. During Christmas time, Dr. Heinzen and his wife are especially busy. They get creative to handcraft Christmas ornaments for all of their friends. You can trust us when we tell you that the list of friends waiting for these unique annual treats has become pretty long over the years.
In Red Bluff/Redding, Dr. Heinzen has found a place to call home and a community he loves to serve as a trusted dentist. He immediately fell in love with the small-city flair and the diversity the area has to offer. He especially enjoys the recreational opportunities, the mountains and the overall scenery of the area.
Dr. Heinzen is a proud alumnus of Brigham Young University, where he graduated with a Physiology and Developmental Biology degree. Afterward he attended the University of the Pacific Arthur A. Dugoni School of Dentistry, where he graduated in 2012.
Dr. Heinzen serves as a member of the California Dental Association, the American Dental Academy and the Northern California Dental Society. He is also part of the University of the Pacific Tau Kappa Omega Honor Society.
Dr. Heinzen is a part of the following associations and organizations: